About the Symposium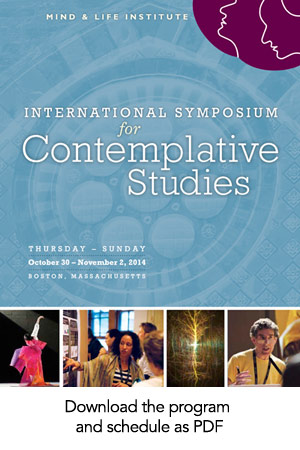 The Mind & Life Institute's International Symposium for Contemplative Studies brings together scientists, scholars, artists, and contemplatives to explore clinical science, philosophy, humanities, education, economics, the arts, and other domains. These distinct, though overlapping, fields of research and scholarship focus on advancing our understanding of the human mind and how training the mind through contemplative practices can lead to valuable insights that promote a reduction in suffering, enhanced health and cognitive/emotional functioning, and increased social harmony. It has become clear that a multidisciplinary integrative approach is critical for understanding the mind and its effects on health, ethical behavior, and society at large. The International Symposium seeks to encourage and help shape a cohesive interdisciplinary field of contemplative studies in which basic and applied science, scholarship, education, the arts, and contemplative traditions collaboratively develop an integrated way of knowing.
This year's program included keynote addresses by His Holiness the 14th Dalai Lama; Diana Chapman Walsh, president emerita of Wellesley College; Richard Davidson, director of the Center for Investigating Healthy Minds at the University of Wisconsin, Madison; Amishi Jha, director of contemplative neuroscience, the Mindfulness Research and Practice Initiative, at the University of Miami; David Germano, director of the Contemplative Sciences Center, University of Virginia; Arianna Huffington, president and editor-in-chief of The Huffington Post Media Group; and Tania Singer, director of the department of social neuroscience at the Max Planck Institute. 2014's program also featured a Pre-Conference, featuring john a. powell of the Haas Institute for a Fair and Inclusive Society, with a focus on contemplative education.
Concurrent master lectures were presented by several distinguished scientists, scholars, artists, and contemplative teachers, as well as individuals and groups presenting individual papers, panels, or poster presentations reflecting the most current contributions to the ever-growing field of contemplative studies. The Symposium also hosts contemplative art performances, exhibits, and continuous contemplative practice opportunities.